Sound and Vision Combined with new NARVA ALS L.E.D Audio Lights
—
December 20, 2018
Long known as a premium supplier of lighting products, Narva has expanded this expertise into new areas with the recent release of its Advanced Lighting Systems (ALS) L.E.D Audio Lights, bringing a crisp white light with audio clarity to the camping ground, workshop or for other trade applications.
Available in three model variants producing 600, 2000 and 5000 Lumens of output respectively, the audio lights all feature high efficiency COB L.E.Ds and high quality Bluetooth® speakers, that provide quick and easy connection with any smart phone or tablet and impressive maximum volumes (84±3dB).
The NARVA ALS Audio Lights have a Bluetooth® range of up to 20 metres and also remember the last device they were paired with, making it even easier for repeat use. All three lights also feature a glow in the dark locator making them fast to find in the dark, they are impact-resistant with high quality aluminium housings for reliability in demanding Australian conditions.
The range begins with the rechargeable 71400 model. Producing 600 Lumens, this is a compact hand-held light with a 90 degree rear bracket and magnetised base that makes it simple to position on a number of surfaces. At full power, this audio light will shine brightly for two hours; at half power (300 Lumens) battery life is extended to four hours. If used as an audio device alone, the battery life will last up to 15 hours.
To ensure reliable performance, the 71400 is water and dust resistant to IP65, making it ideal for harsh environments. Charge time for the unit's 3.7V 3200mAh Lio-Li Battery from flat to fully charged is between three and four hours via the included USB lead.
The larger 71404 Audio Light, produces an even more impressive 2000 Lumens of output. It can be operated both corded or as a rechargeable unit, thanks to its 10.8V 6000mAh Lio-Li Battery.
Depending on the light output selected (adjustable via the dimmer control feature which also includes a visual battery life readout), this Audio Light will shine light for between 2.5 to 12 hours yet takes only between 4 and five hours to fully charge via either the included USB cable or 5 metre, 240V AC power cable.
As with the smaller 71400 variant, the 71404 also includes a powerful magnetised base allowing flexible placement options.
At the top of the new Audio Light range is the 71406 unit, which produces a brilliant 5000 Lumens of bright light output. Battery life is again dependent on the level of output at which the unit is operated. This ranges between 1.5 to 17.5 hours and is adjusted via the same dimmer and battery life indicator as the 71404.
Charging time for this powerful Audio Light using either USB lead or 5 metre, 240V AC power cable takes just 3 to 4 hours as it contains the same high performing Lithium battery as the 71404.
The two larger lights also feature a power bank function to charge mobile devices and other similarities are a higher dust and water resistance rating to IP67.
To complement the 71404 and 71406 Audio Lights, at additional cost, Narva offers two stand options allowing more flexible mounting particularly for the workshop or out in the field. On offer is a height adjustable (135cm to 300cm), heavy duty tripod stand (Part No. 71470) as well as a height adjustable (75cm to 180cm) stand with lockable castors, providing convenient movement in garages or on building sites (Part No. 71472). The audio lights easily couple to the stands using a heavy duty mounting bracket which forms the base of these lights.
All three Narva ALS L.E.D Audio Lights are patent protected and covered by a 2-year warranty and are available from leading automotive, transport, recreational and trade outlets.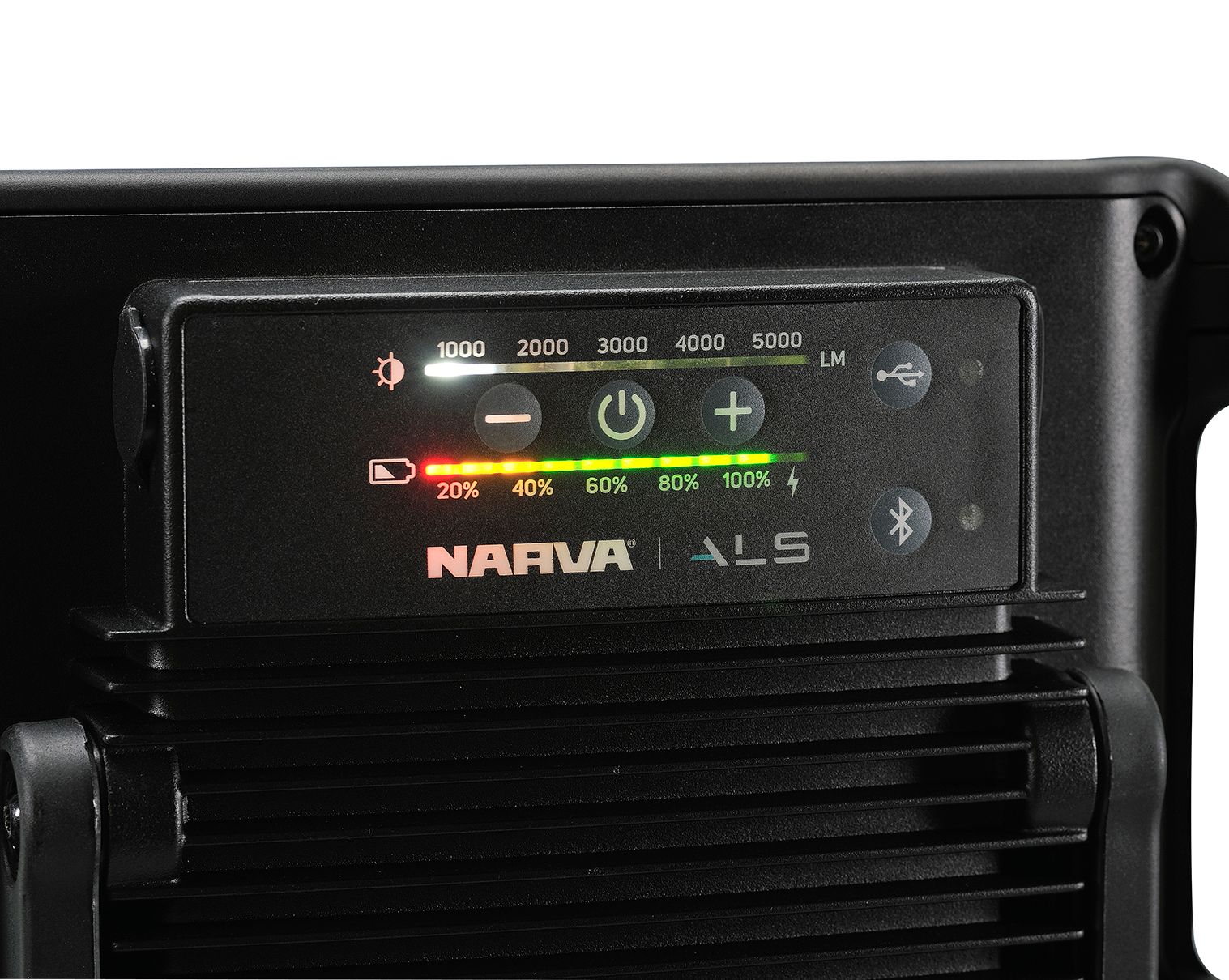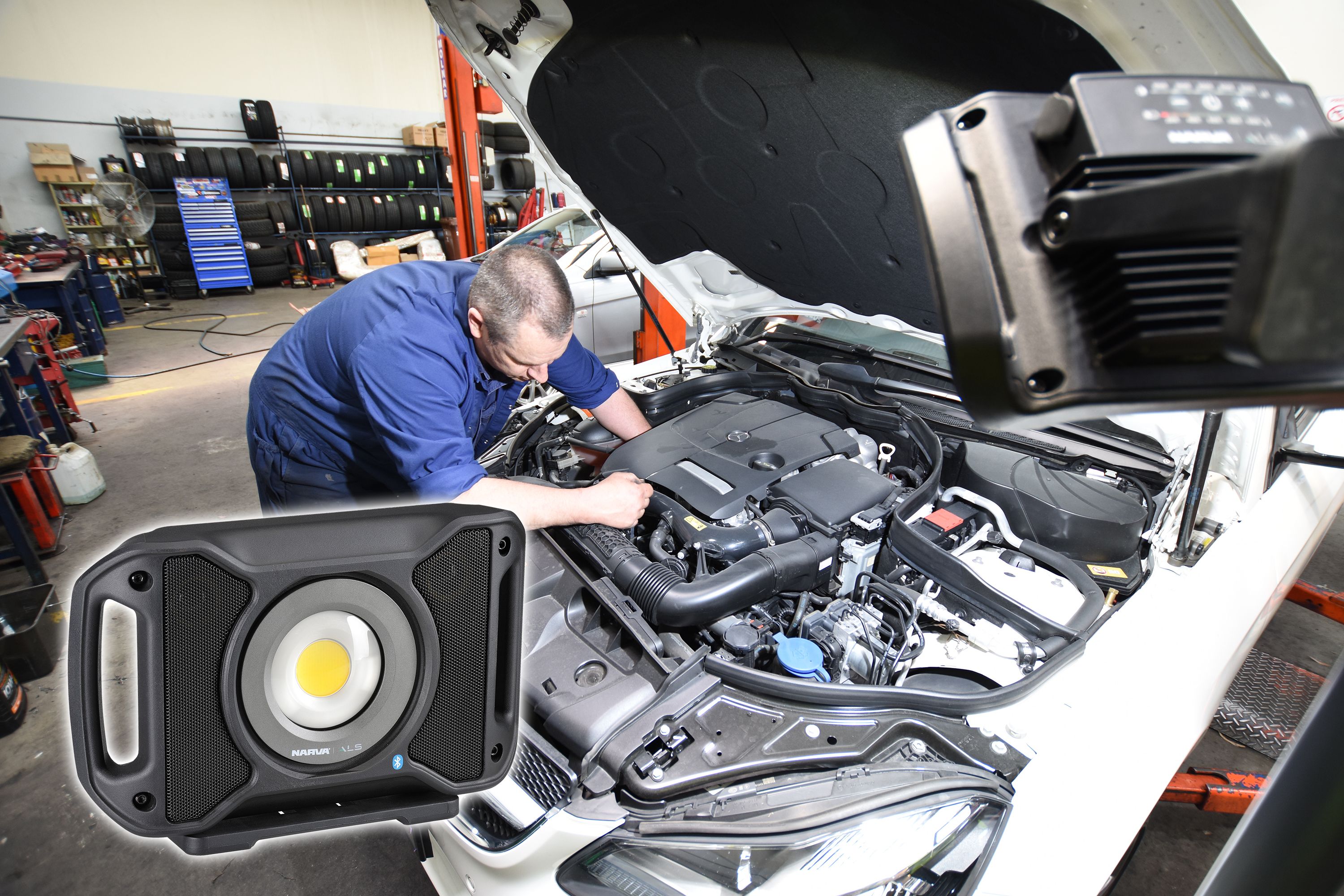 ENDS
10 December 2018
About Narva
Narva is Australian owned and is a leader in the development, manufacture and supply of automotive lighting and electrical components for the automotive, marine and transport industries. Further information on the extensive Narva programme together with high resolution images for download can be found at www.autonews.net.au
Additional details can be found by visiting the Narva website at www.narva.com.au
For further information contact:
Contact Sales
Brown & Watson International Pty Ltd
Phone: 03 9730 6000
National Toll Free: 1800 113 443
Email: info@narva.com.au
Graeme McLean
Graeme McLean & Associates Pty Ltd
Phone: 03 9583 6694
Mobile: 0438 806 090
Email: graeme@mcleanassoc.com.au