New Narva Trailer Lamp Kits for fast and convenient fitment
—
August 13, 2019
Narva has grown its range of L.E.D trailer lamps kits with the introduction of its all-new 'Model 35' and 'Model 37' range, delivering a high quality yet affordable lamp kit, with the added convenience of having everything needed for installation in the one package.
The Model 35 range provides a complete 'plug and play' solution for box trailer lighting and is perfect for the DIY enthusiast.
Installation is simple utilising a waterproof connection system with over-moulded connectors that quickly join the lamps and trailer plug to the main wiring harness. No splicing or joining of any wires is required, making this part of the job a completely tool free exercise.
Each Model 35 kit includes the necessary lamps to comply a standard '6x4' or '7x5' box trailer to Australian Design Rules (ADR 13/00) for lighting installations. For greater compatibility across a range of tow vehicles, the kit also provides both a 7 pin flat and a 7 pin large round trailer plug, the two most popular trailer plugs in Australia.
As well as ease of installation, the lamps feature a strong output courtesy of their 2x12V L.E.D rear stop/tail light and 2x12V L.E.D directional light. The lamp kits also include a retro reflector and a licence plate light and associated leads, connectors and harness.
To better suit a variety of box trailers and owner preference, there are two different kits on offer, providing both square-shaped lamp and a rectangular option. Both variants are of a slimline design to provide a clean and modern look. The Model 35 lamps are also available in lamp only packs when the wiring harness is not required.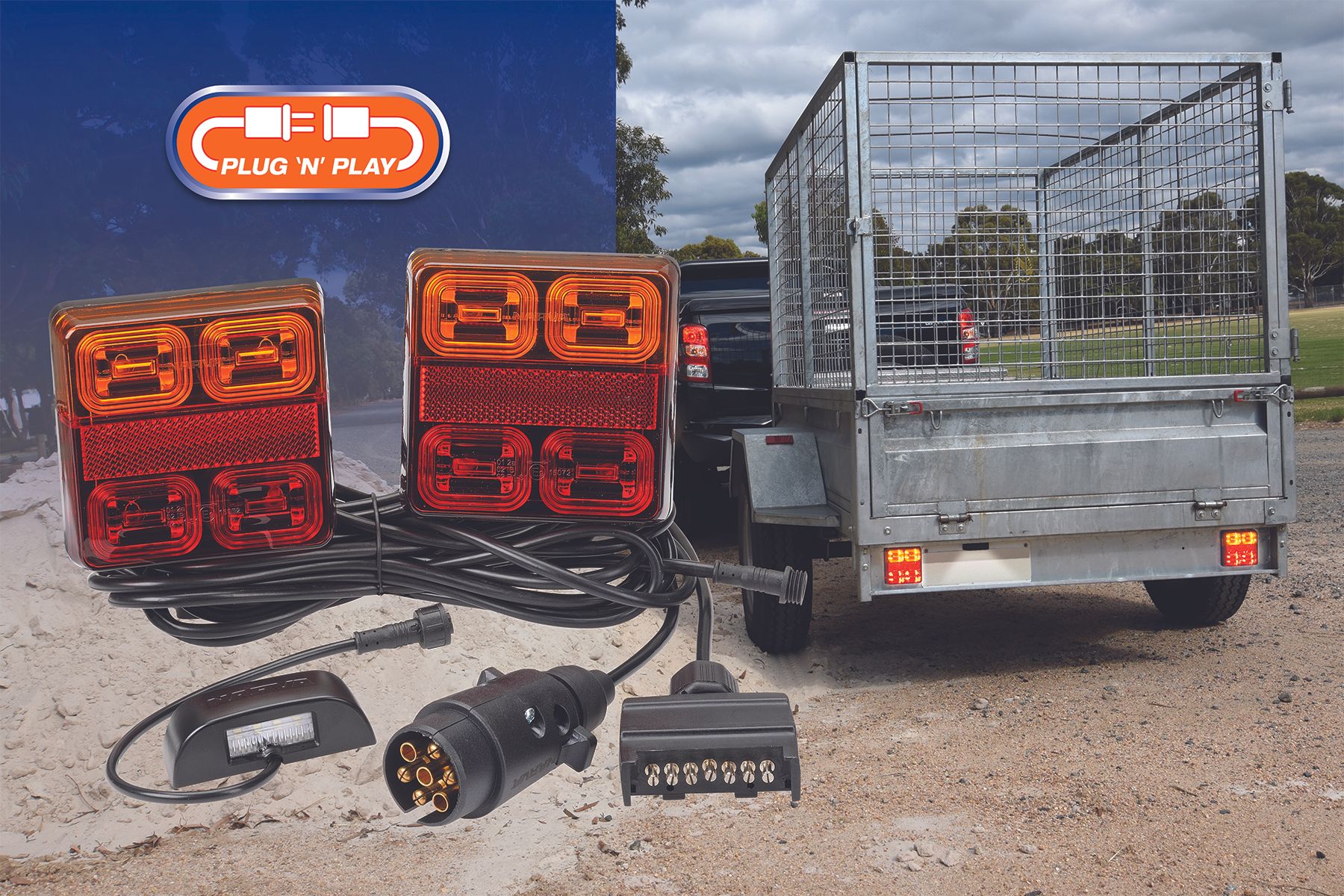 The new Model 37 has the same benefits as the Model 35, being a complete kit with lamps, licence plate light, two trailer plug options, harness, cable and connectors included, but is designed for boat trailers where regular submersion is common.
Protecting the lamps from water ingress is a two-stage sealing system that incorporates ultrasonic welding with a two-part epoxy glue. This allows the lamps to comply with the stringent IP68 standard.
Additionally, each lamp kit is provided with a waterproof connector that easily joins the main harness which also has an IP68 rating. For added performance and longevity in corrosive marine environments, all hardware is made from 316 stainless.
There is also an option for a second kit (Part No. 93750BL2) which also includes a pair of slimline side marker lamps. Both kits are suitable for trailers that are up to seven metres in length.
As with the Model 35, buyers not wanting to purchase a full kit can simply buy the lamps as standalone items.
Narva's new Model 35 and Model 37 Slimline L.E.D trailer lamp kits are ADR approved, supported by a 5-year L.E.D warranty and are available from leading automotive, camping and marine stores Australia-wide.