Bull Motor Bodies Grows with Component Supplier Narva
—
December 11, 2018
One of Australia's leading service body manufacturers for utility vehicles, Bull Motor Bodies, is on a steady growth path, thanks to an innovative manufacturing process and its partnerships with quality component partners such as Narva.
Established in Perth 17 years ago, Bull Motor Bodies has grown from a relatively small workshop to now have two operation centres incorporating a National Office, WA branch, distribution centre and manufacturing facility.
Five years ago, Bull Motor Bodies expanded into Northlakes, Queensland. Together the company is producing over 1000 units per year, with this number likely to soon increase with plans afoot to enter South Australia, Victoria and New South Wales.
Eighty per cent of the company's bodies find their way onto the vehicles operated by major national fleets working in mining, emergency services, utilities and similar applications.
A key to the company's manufacturing success story and bullish growth is its use of state of the art design and manufacturing processes ensuring a quality outcome for each unit. On offer to buyers are several chassis mounted enclosed canopy options as well as a tray with toolbox models and flat tray options.
Each of these products come in three sizes and are designed to suit all commercial utility vehicles available in Australia, be it single cab, extra cab or dual cab in either 4x2 or 4x4 configuration.
By developing several standardised designs, Bull Motor Bodies have gained efficiencies in the manufacturing process, delivering a fast build while maintaining the highest quality and at an affordable price.
But this standardised approach doesn't mean customers go without choice in how the bodies are equipped – the company is able to tailor the fit-out with a vast array of options and accessories depending on the needs of the application.
In keeping with the modular design approach, the company has partnered exclusively with Narva over the past four years, as its lighting and electrical component supplier of choice. According to Bull Motor Bodies Business Development Manager, Simon Rawnsley, it is the combination of a quality product range and national support that makes Narva a great fit for the company.
"We have been using Narva equipment for quite a while and we are very happy with their products; the relationship between the two brands is strong and as a company they're fantastic to deal with," Simon said.
"The Narva range is extensive and has every product we need to satisfy our diverse range of clients. The equipment is also of a high quality and finish, something which is very important to us.
"The third major consideration was product support and nationwide back-up. We have units all over the country so we needed support throughout Australia to ensure our customers received the best possible back-up if and when this is required," he said.
All Bull Motor Bodies units are extensively equipped with Narva products. Depending on the application products include the latest Ultima L.E.D driving lights, L.E.D light bars, L.E.D taillights, beacons, emergency lighting, mining bars, work lamps and interior lighting.
The vehicles also operate a wide range of equipment from Narva's sister electrical power supply and battery maintenance brand, Projecta.
As well as using the clever modular design, another factor that sets Bull Motor Bodies aside from many competitors is its unique blend of automotive materials and assembly techniques
"Aluminium features heavily in our units, we use 3 mm gauge aluminium, heavy duty composite plastic as well as steel where required, the end result is a lower weight body that's still extremely durable," Simon said.
"Our units operate in some of Australia's toughest conditions but normally last two to three vehicle lease cycles. When the customer requires a new vehicle, the module will more often than not, be transferred from the old vehicle. After a quick service, the transferred module and new vehicle will head back into the fleet and operate again for another vehicle life."
Simon said that customer feedback on their range of bodies is excellent.
"Such is the quality of the build and the components used that the customer doesn't necessarily differentiate between the Narva equipment and the body itself, they see it as fully-integrated solution," he said.
"They comment on how professional the bodies are and how well they perform in the field – they see value in the build and in what they're getting which includes all the Narva gear."
While Bull Motor Bodies is currently specialising in utility vehicles, in the future the company will also look to extend its range to cover light trucks, where it will again look to team-up with Narva.
To see the full range of Narva-equipped Bull Motor Bodies, visit: www.bullmotorbodies.com.au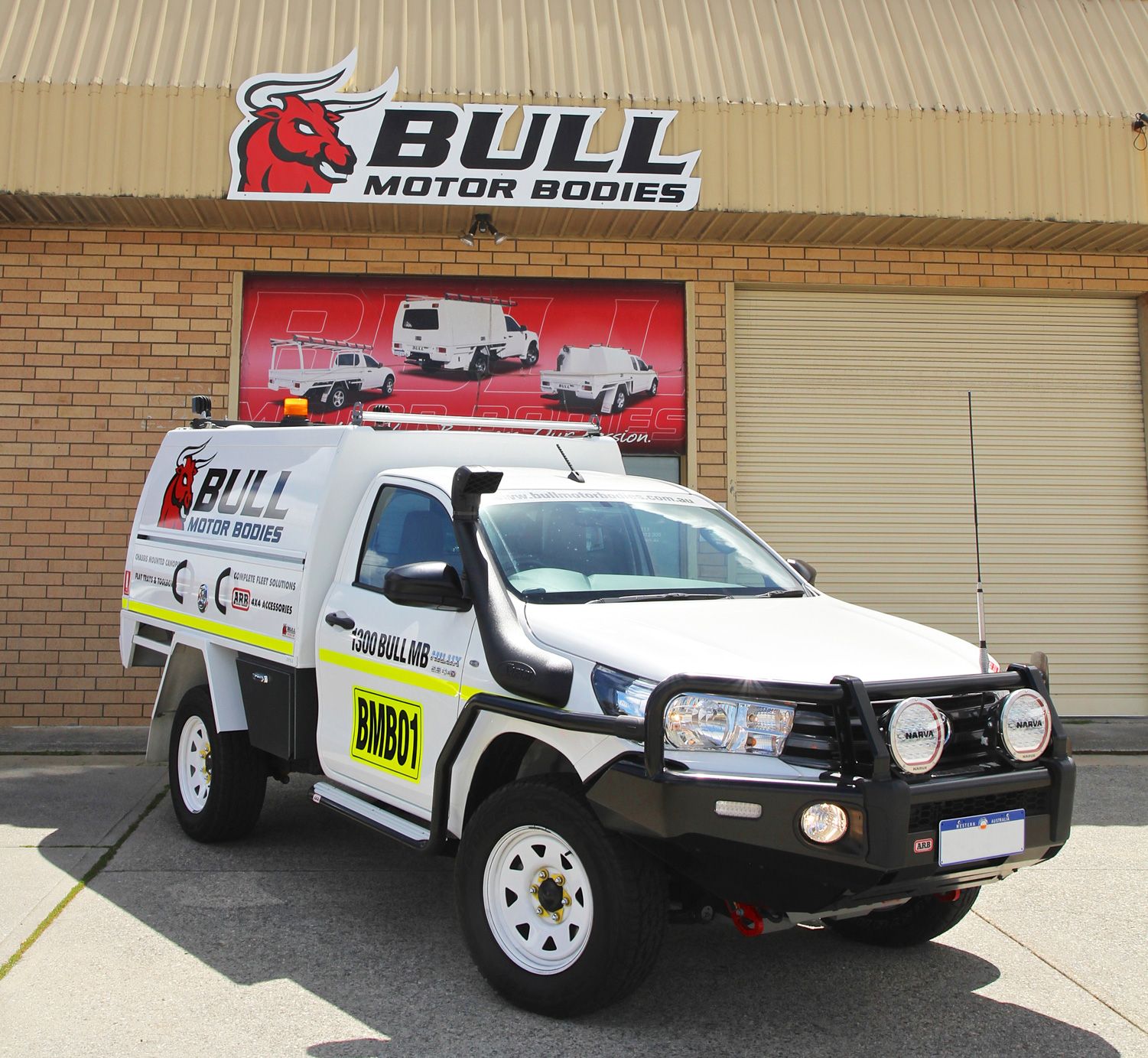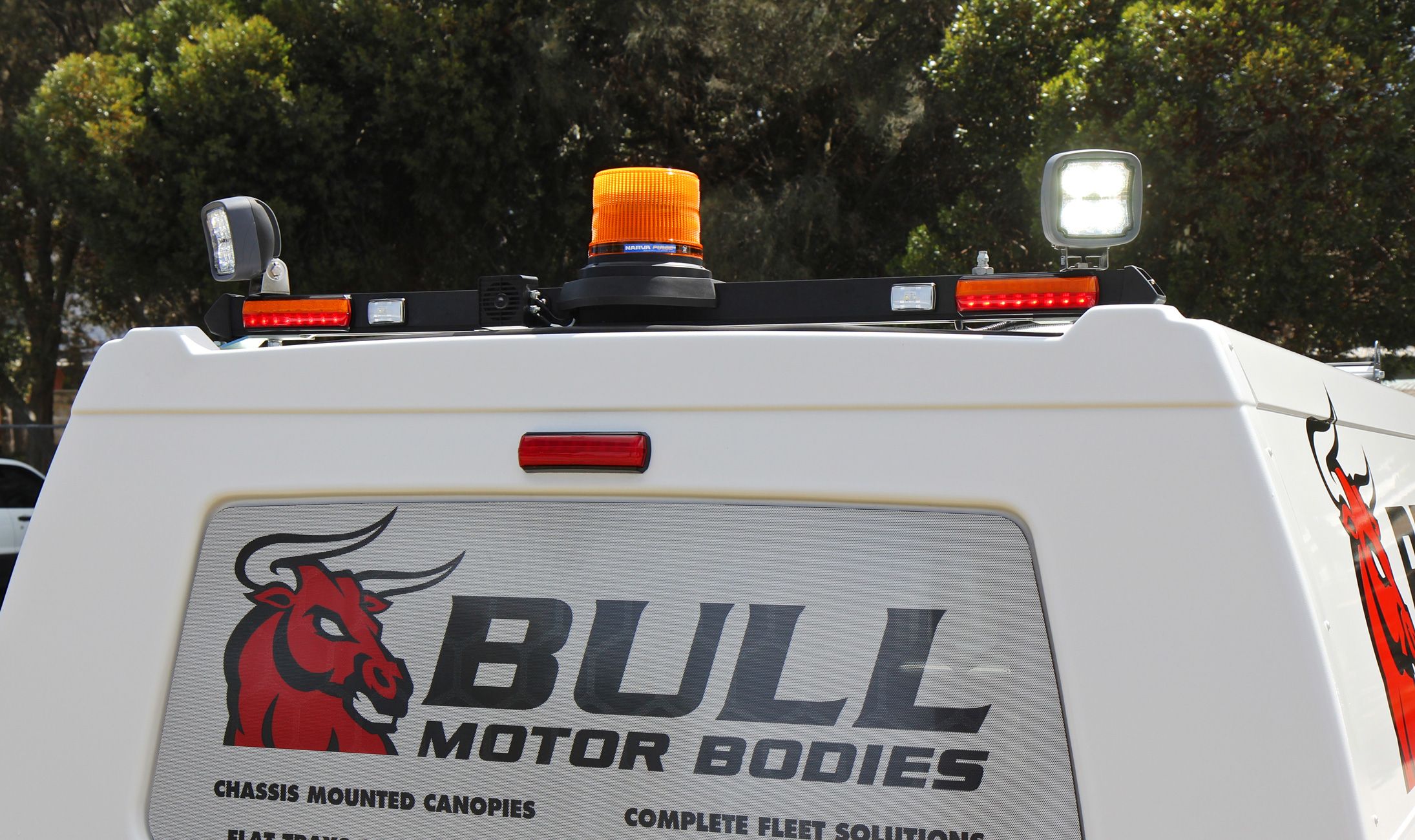 ENDS
8 October 2018
Link to more images:
https://drive.google.com/file/d/1-VmscbCClceHzGdkex-vjDGrvN4Snv4Y/view?usp=sharing
About Narva
Narva is Australian owned and is a leader in the development, manufacture and supply of automotive lighting and electrical components for the automotive, marine and transport industries. Further information on the extensive Narva programme together with high resolution images for download can be found at www.autonews.net.au
Additional details can be found by visiting the Narva website at www.narva.com.au
For further information contact:
Contact Sales
Brown & Watson International Pty Ltd
Phone: 03 9730 6000
National Toll Free: 1800 113 443
Email: info@narva.com.au
Graeme McLean
Graeme McLean & Associates Pty Ltd
Phone: 03 9583 6694
Mobile: 0438 806 090
Email: graeme@mcleanassoc.com.au