IP Rating Explained
— February 27, 2019 | 2 min read
You've no doubt seen lighting products at the shop or online with packing showing an 'IP' rating, but what is IP?
It stands for Ingress Protection, and when you're handing over the hard-earned cash for new lighting – whether for your vehicle, caravan or for the workshop – you need to ensure that the IP rating is the right one for the job at hand.
As you can see from the accompanying chart, an IP rating comprises the letters 'IP' and two numerals, for example 'IP68'.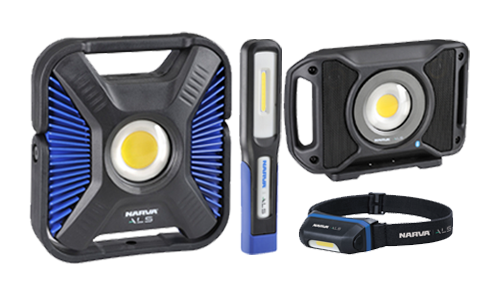 Image not to scale: Narva ALS Flood Lights (71404 & 71406 IP67, 71400 IP65), Narva ALS Audio Lights (IP67)
Narva ALS Inspection Lights (IP65), Narva ALS Head Torch (IP65).
The first of the numbers relates to the level of protection the light can offer against particle ingress – the higher this number, the better the protection. So in the case of our IP68 example, this light's construction and housing offers the internals an extremely high level of protection, and is in fact dust tight.
Ideally if the light you're purchasing will be exposed to natural elements or will be used in a garage or workshop environment, you need this first IP number to be a '5' or '6' to make sure it's up to the task.
The second digit is just as important and refers to the level of liquid ingress protection the light has. Again using our IP68 example and referencing the '8' on our chart, you'll see that this light is effectively waterproof (immersible) to a level of one metre!
You might think that this level of protection is overkill for inspection lamps or workshop lights such as Narva's ALS rechargeable L.E.D flood light range (rated to IP67), but it's added peace of mind in knowing that these lights will perform even if they get forgotten behind a dusty garage workbench for a while, left in your roof cavity or misplaced for a few days outside in rainy weather.
It's important to note that if a product passes IP69K, it does not necessarily mean it has passed IP66, IP67 or IP68 as the tests are very different. If a pressure test and a submersion test are passed, both ratings need to be quoted separately e.g. IP68 & IP69K
For other product types and applications, a high IP rating is a no brainer. Take driving lamps or light bars, especially if fitted to competition off-road vehicles or even for recreational 4WD applications – they're bound to experience plenty of dust, mud and water on a weekly or even daily basis for some users.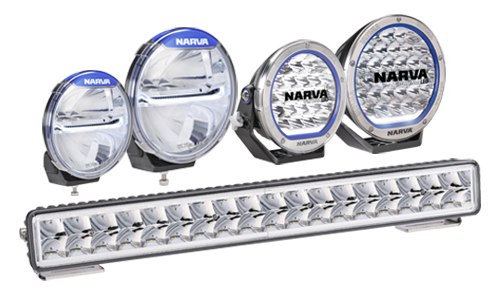 Image not to scale: Ultima Enhanced range rated: IP67, Ultima High Powered range rated: IP66 & IP67, Explora range rate: IP68 & IP69K.
Fortunately, the entire range of Narva driving lamps and light bars all benefit from high IP ratings, as an example, Narva's new 'Explora' L.E.D lightbar range is fully sealed to IP68 and IP69K standards (refer to the chart for details) – that's pretty impressive and ensures these lights will perform even in the toughest conditions.
Some of you might be asking how companies like Narva are able to accurately test and certify that their lights meet the indicated IP rating. Well as much as Narva enjoys real world testing (which is also undertaken as part of product development), gaining the correct IP certification is actually quite scientific.
Narva's parent company, Brown and Watson International Pty Ltd, is fully accredited to ISO9001, this guarantees that Narva is able to consistently provide products and services that meet customer and regulatory requirements.
And as part of the company's Melbourne head office and distribution facility, Narva operates an extensive on-site environmental laboratory where testing takes place and sees pre-production lighting products running a gauntlet of rigorous testing.
The on-site testing regime includes a dust chamber, thermal shock chamber, submersion tank, rain chamber and climate chamber which are able to replicate extreme conditions that the lights are unlikely to ever be exposed to, even in Australia's most demanding conditions. So next time you're in the market for lighting products, be sure to take notice of the IP rating, to help guide your decision about the best option for you.