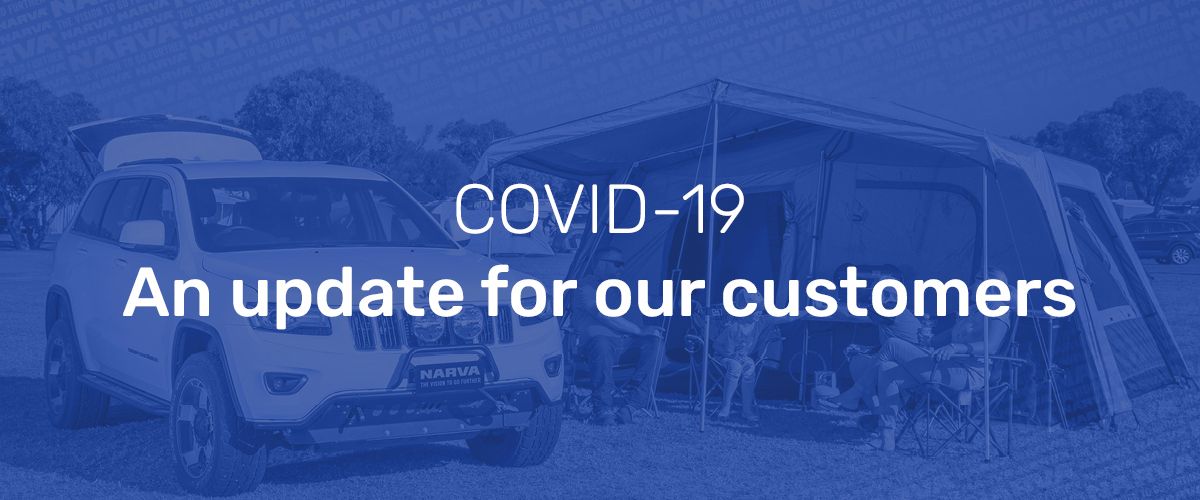 5 August 2020:
Here at NARVA, we're committed to being safer and smarter in the midst of the coronavirus pandemic. Our priority remains the safety of our team, customers and community whilst ensuring we continue to provide exceptional products and the highest level of service. After carefully reviewing the Victorian government's guidelines, we will remain operational under Stage 4 restrictions with a comprehensive COVIDSafe plan in place for our Knoxfield, Victoria site and our state offices. Key changes to our operations will mean even greater safety for our team members, logistics partners and our community and include:
- Adoption of a COVIDSafe plan for our Knoxfield site and state offices
- Prohibition of access to our site by the public
- Contactless interaction with couriers and transport operators
- Victorian sales team are conducting customer contact by phone, email or MS Teams
- All team members who can work from home, are working from home
Safer. Smarter. Narva
We remain dedicated to operating in the most efficient way possible to maximise output and reduce the impact of restrictions on our customers. Whilst every effort will be made to maintain the highest level of service, we appreciate your patience and understanding when our changes in operations and onsite staff count create some delays.
From our entire team, thank you for your continued support of the NARVA brand. You have our promise that we will continue to provide you, our customer, with the highest quality lighting and electrical products on the market. Take care and stay safe.
---
1 May 2020:
As trading conditions have dictated, we have decided to strategically scale working hours from 01/05. These changes to team hours will vary across departments and have the end goal of ensuring complete coverage across business hours with no impact upon our customers.
In addition to the changes to hours by department, we have moved to return the warehouse, production and quality teams to normal single-shift operations with the following procedures in place:
Existing measures to minimise the risk of COVID infection will remain in place, such as adequate distancing, stringent hygiene behaviours and increased cleaning.
Additional measures to minimise the risk under a single-shift roster will be implemented including staggered start, finish and break times as appropriate.
The transition to a single shift may be introduced over a few days to allow body clocks to adjust.
We will return to a split-shift arrangement if dictated by an increased risk of infection or as government regulations indicate.
It remains our priority to protect our team, families and customers whilst continuing to deliver the highest quality products and services. With thoughtful changes to our working hours, we ensure a sustainable business throughout and following COVID-19.
---
6 April 2020:
Here at Narva, we want to acknowledge the global impact of coronavirus and assure you we are working hard at the local level to support the health and safety of our team members, customers and community. We understand these are difficult times and we want to assure you that our company will continue to design, produce and supply our customers with the highest quality lighting and electrical products on the market.
We take the advice from the World Health Organisation and the regulations from the Australian government very seriously and have put in place measures to protect the health and safety of our staff, retailers and end users.
Safer.
Our production and warehouse teams have been moved to a split shift roster to minimise contact whilst maintaining production volume and order fulfillment
All staff have received education on handwashing and hygiene protocols and are practicing physical distancing
All surfaces are regularly disinfected in our warehousing and production facilities
We have suspended all customer pickups from our warehouse
International and domestic travel has been cancelled
Smarter.
All office staff including sales and customer service have been equipped to work from home
We're employing video conferencing technology to meet with our retailers and colleagues
We continue to monitor updates to government regulations daily and are prepared to act swiftly to tighten restrictions where required
Narva.
At Narva, we're dedicated to bringing you innovative products you can rely on. We're confident that with these measures in place we can continue to serve you through this difficult period and beyond. From all of our families to yours, thank you for your continued support of the Narva brand. Stay well and stay safe.