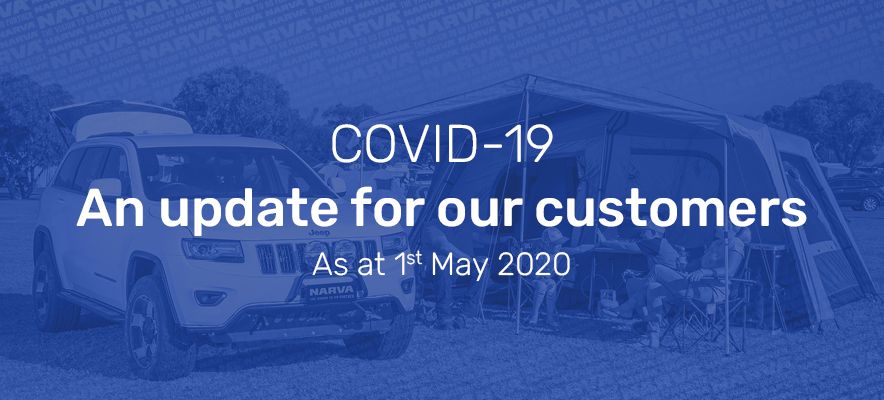 1 May 2020:
As trading conditions have dictated, we have decided to strategically scale working hours from 01/05. These changes to team hours will vary across departments and have the end goal of ensuring complete coverage across business hours with no impact upon our customers.
It remains our priority to protect our team, families and customers whilst continuing to deliver the highest quality products and services. With thoughtful changes to our working hours, we ensure a sustainable business throughout and following COVID-19.
---
6 April 2020:
Here at Narva, we want to acknowledge the global impact of coronavirus and assure you we are working hard at the local level to support the health and safety of our team members, customers and community. We understand these are difficult times and we want to assure you that our company will continue to design, produce and supply our customers with the highest quality lighting and electrical products on the market.
We take the advice from the World Health Organisation and the regulations from the Australian government very seriously and have put in place measures to protect the health and safety of our staff, retailers and end users.
Safer.
Our production and warehouse teams have been moved to a split shift roster to minimise contact whilst maintaining production volume and order fulfillment
All staff have received education on handwashing and hygiene protocols and are practicing physical distancing
All surfaces are regularly disinfected in our warehousing and production facilities
We have suspended all customer pickups from our warehouse
International and domestic travel has been cancelled
Smarter.
All office staff including sales and customer service have been equipped to work from home
We're employing video conferencing technology to meet with our retailers and colleagues
We continue to monitor updates to government regulations daily and are prepared to act swiftly to tighten restrictions where required
Narva.
At Narva, we're dedicated to bringing you innovative products you can rely on. We're confident that with these measures in place we can continue to serve you through this difficult period and beyond. From all of our families to yours, thank you for your continued support of the Narva brand. Stay well and stay safe.