A beginner's guide to automotive fuses
— May 17, 2021 | 2 min read
Circuit breakers are becoming increasingly common in modern 12 and 24-volt electrical systems, but that does not mean the humble fuse is without its place.
Fuse systems are an affordable and reliable way of protecting electronic circuits or systems from electrical overload, and depending on where your vehicle is manufactured, you may find different types of fuses within the fuse box of your car, truck, boat, or caravan.
How does a fuse work?
A fuse is a small, sacrificial device which protects an electronic circuit or system from overload.
The body of the fuse houses a fine conductive strip of metal (or fusible link) which melts or 'blows' if the current passing through it is stronger than it is rated to handle.
In this way a fuse prevents electrical current from entering the electrical circuit or system it is designed to protect, preventing electrical overload, potential damage and even fire.
Which fuse is right for my car?
The easiest answer to this question is to always replace a fuse with the same type you remove.
As a fuse will only blow if the circuit or system it is designed to protect is malfunctioning, the installation of a fuse with a higher rating is at best a temporary fix, and one that could lead to damage of the circuit or even an electrical fire.
If you are unsure of which fuse to use, refer to the lid of the fuse box for details, or consult your vehicle owner's manual.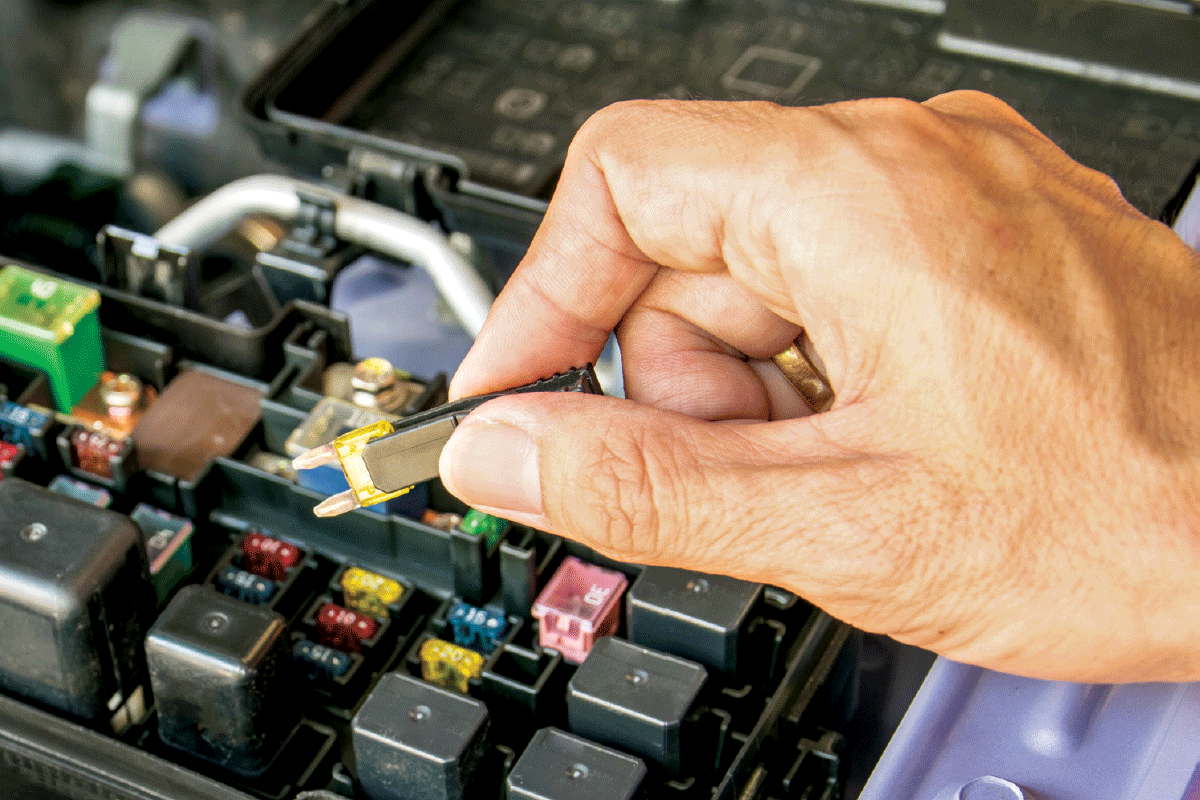 What does the fuse rating mean?
Fuses are marked with a rating measured in Amps. This rating refers to the level of continuous current a fuse can be exposed to without blowing.
How do you pick the right rating? It is recommended that the fuse rating is 25% higher than the amp draw of the accessory you are powering to accommodate momentary current surges that might cause the fuse to fatigue over time or blow unnecessarily. To calculate this, you can use the formula below.
RECOMMENDED FUSE RATING = ACCESSORY AMP DRAW x 1.25
It is important to note that the fuse should not be rated higher than the wire it is installed upon.
Let's look at an example. Say you wanted to wire up a set of our Ultima LED 215 MK2 Driving Lights to your vehicle and you need to buy the correct fuse for the circuit. The lights draw 27.5 Amps, so the formula for the fuse rating would be 27.5 x 1.25. The recommended fuse rating therefore equals 34.375. When you select your fuse, you want to round up to the closest fuse rating above this figure to keep that 25% buffer. In this case, you would want a 40A fuse.
What if you don't know the amp draw of your accessory? Luckily, there's a formula to work this out too. A little something called Ohms Law tells us that:
AMPS = WATTS / VOLTS
In the case of our Ultima 215 lights, you simply divide the total wattage of the two lights (330W) by the input voltage (12V) to get the current draw (27.5A).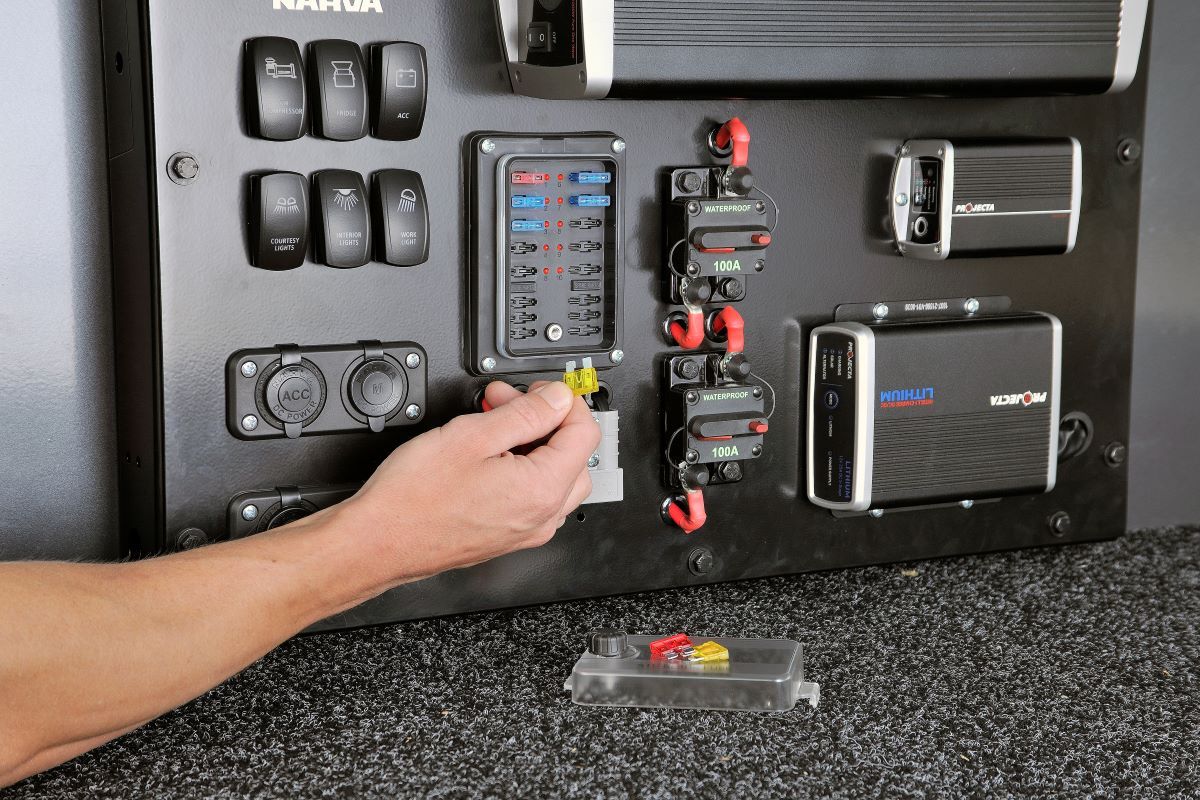 Why do some fuses look different to others?
Depending on the era your vehicle was produced, or even the country it was manufactured, you may find different fuse types within the fuse box.
Some of the more common fuse types found in cars, trucks, boats, or caravans are:
Glass Cartridge these older style fuses consist of a glass cylinder and metal end caps joined to the fusible link. The fuse rating is usually stamped into one of the metal end caps.


Blade Type most modern vehicles are fitted with blade type fused. The fuse rating is printed on the fuse, with many fuses also being colour coded to indicate their rating.


Continental Fuses these plastic torpedo-shaped fuses are made of plastic and have an exposed fusible link. They are stamped with their rating and colour coded.


PAL and JCASE Fuses are a larger, cube-shaped fuses usually found under the bonnet and for high-Amperage applications. They are printed with their rating and colour coded.


Fusible Link or strip or MIDI link fuses are designed for very high current applications are screwed in lace. Depending on the type they are stamped or colour coded to denote rating.
And what about circuit breakers?
Circuit breakers provide overload protection in the same way that a fuse does: by breaking the circuit continuity. But unlike a fuse, a circuit breaker can be reset rather than being replaced.
This makes circuit breakers useful in applications where over-current conditions can occur from time to time, or where you might need to reset a circuit quickly. Unlike a fuse, a circuit breaker does not use a fusible link, instead it operates thermally, the heat generated by the excess current causing the contacts inside to separate and trip the breaker.
Whilst circuit breakers are very useful in some applications, they are more susceptible to damage from vibration and movement which means the humble fuse may still have a long life in automotive applications.
Fuses are also more sensitive and are faster to blow than a circuit breaker, so knowing the difference between different types of fuses is a skill that will serve you well for quite a while to come.