5 top tips for driving in the snow
— July 07, 2021 | 2 min read
With the ski season officially upon us, it's time to take a look at some of the precautions we should take when driving in snow and icy conditions.
Generally, driving above the snow line is divided into two separate categories: driving on ploughed and patrolled asphalt roads; and driving on unsealed roads or fire trails. Both require a cautious approach and are equally prone to the build-up of black ice and slush, especially in poor conditions, at dusk and dawn, and overnight when temperatures tumble.
It's also imperative to know when and how to fit snow chains. In alpine areas its illegal to drive without carrying snow chains, and these must be correctly fitted in an approved area before attempting to drive in snow or icy conditions. More on that, and many other useful tips, below.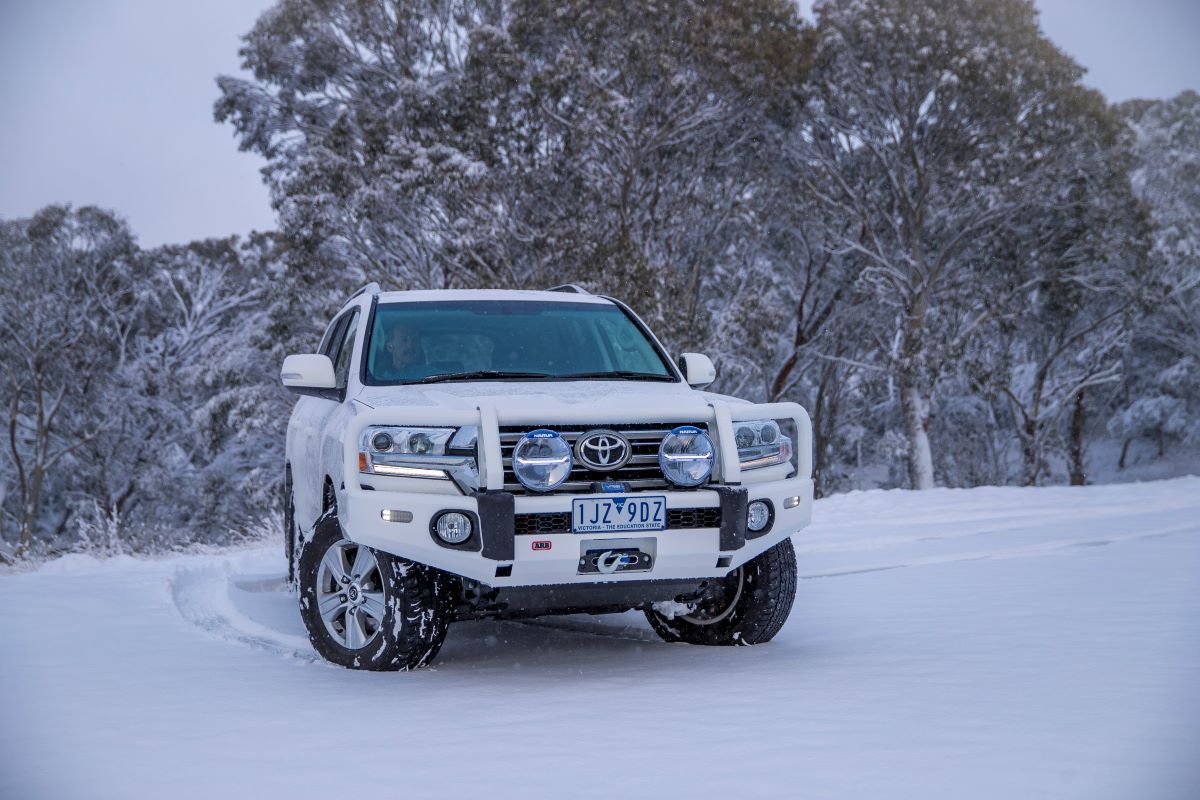 Understand tyres and snow chains
In countries where driving in snow and icy conditions is a regular occurrence, winter tyres are a well understood part of the winter driving experience. These are softer tyres with aggressive tread patterns made for use in consistently lower temperatures.
But in Australia – where generally speaking there isn't a need for seasonal tyres – we tend to fit one set of tyres that are used irrespective of the conditions.
That said, there are numerous all-terrain tyres available for most cars and SUVs that are designed for driving in snow and icy conditions. These are identified by the Rubber Manufacturers Association Three Peak Mountain Snowflake (or 3PMSF) symbol on the tyre's sidewall, which indicates that the tyre is rated for severe snow conditions. If you're heading to the snow more frequently, 3PMSF tyres may well be worth considering.
For the rest of us, the use of snow chains is not just recommended, but also the law. Chains must be carried in alpine areas of Victoria and Tasmania and fitted when required. These can be hired and are designed to fit your specific wheel and tyre combination. You should read the instructions and practice fitting your chains before discovering how difficult it is in a snow-covered car park.
We recommend carrying a torch or headlamp, gloves, and a mat, tarp or garbage bag to kneel on while fitting chains. Drive at or below 40km/h with snow chains installed, and don't forget to remove them when no longer needed.
Handy web links:
https://www.vicroads.vic.gov.au/safety-and-road-rules/driver-safety/snow-and-winter-driving/snow-chains
http://snowsafe.org.au/chain-fitting/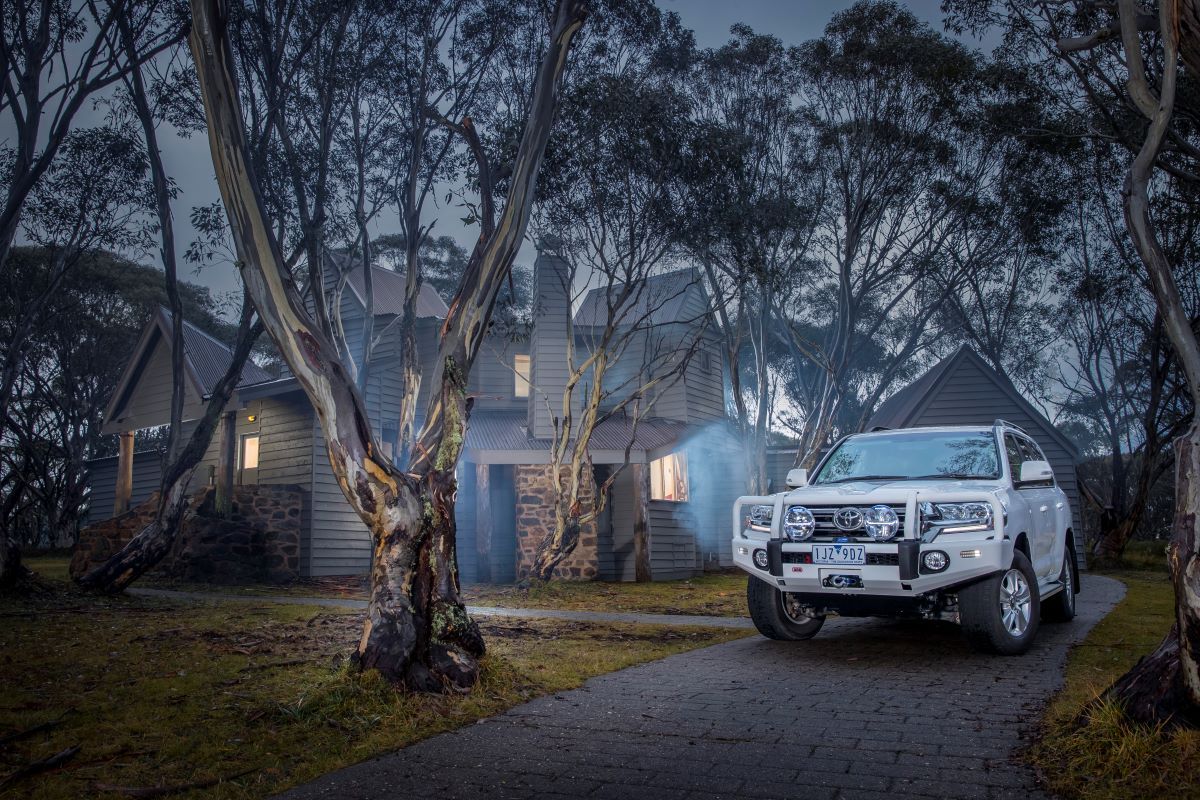 Prepare your vehicle
As well as fitting snow chains, there are other precautions you can take to make sure your vehicle is safer when driving in snow or icy conditions.
It's recommended your tyres have at least 40 per cent of their tread remaining and are correctly inflated according to the manufacturer's tyre placard. For diesel vehicles, it's recommended filling the tank with alpine diesel to avoid the fuel freezing, and the anti-freeze used in your cooling system is refreshed, as anti-freeze degrades over time. You can also purchase windscreen washer fluid with anti-freeze.
You should also make sure your oil, brake fluid, and other fluids are topped up, and that your battery is in good condition. Starting your vehicle in cold temperatures places a lot of strain on the battery, and a weaker battery will fail when temperatures approach freezing point. Your mechanic can check these items for you if need be.
We recommend having your car's heating and air-conditioning system checked before heading to the snow. Your car's air-conditioner should be used in conjunction with the heater to keep the windscreen fog free. Air-conditioning dries the air inside the car and will prevent the collection of water vapour on cold glass.
You will also want to make sure all your vehicle's lights are clean and working, including brake lights, indicators, hazard lights, headlights and foglights (if fitted).
To prevent fogging and improve visibility when driving in snow or icy conditions, it helps to have a hydrophobic spray on hand.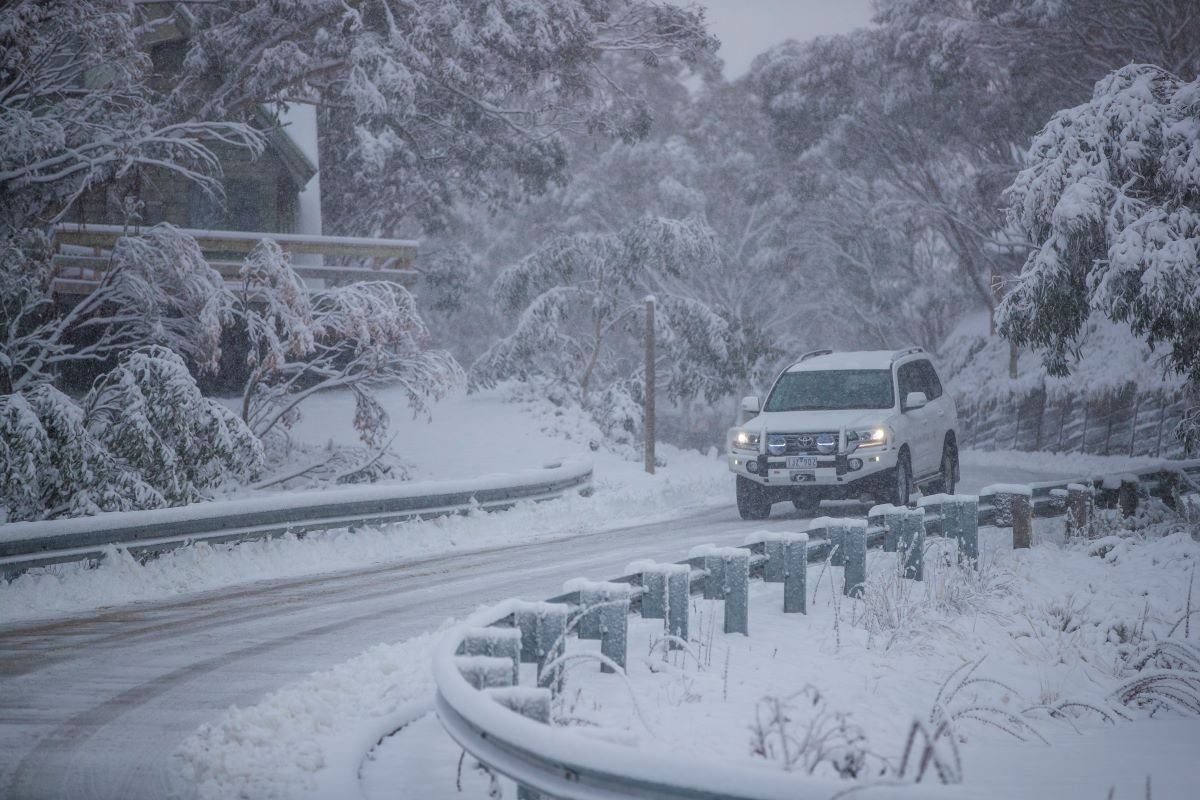 Drive to suit the conditions
We often hear the phrase 'drive to suit the conditions', but what exactly does it mean?
In snow and icy conditions, it's a rule that is best thought of as 'slow and steady', because the lack of grip available to your tyres means your vehicle will not stop or steer as readily as it otherwise would. It's best to think ahead and drive cautiously, especially when cornering or stopping.
Stopping distance is greatly increased in wet, snowy, or icy conditions, even in vehicles fitted with anti-lock brakes, traction control, and electronic stability control. If your vehicle is equipped with four-wheel drive, you should engage it before it is required, and when driving with snow chains fitted, remember to drive at or below 40km/h.
Always drive with both hands on the wheel, accelerate and brake with a steady pressure, and avoid braking while cornering (it's always safer to brake while travelling in a straight line). Use a lower gear to help slow the vehicle when travelling downhill and always check the conditions of the road before you reach an area that might be closed or impassable.
If you feel your vehicle lose traction or skid, remain calm. Apply the brakes gently to regain traction and look and steer where you want to go. A skid is generally a result of travelling too fast, turning the steering wheel too quickly, or accelerating or braking too rapidly. Take your time and drive cautiously.
Handy web links:
https://traffic.vicroads.vic.gov.au/
https://www.ski.com.au/reports/australia/nsw/roadstatus.html
https://www.transport.tas.gov.au/projectsplanning/road_closures_and_delays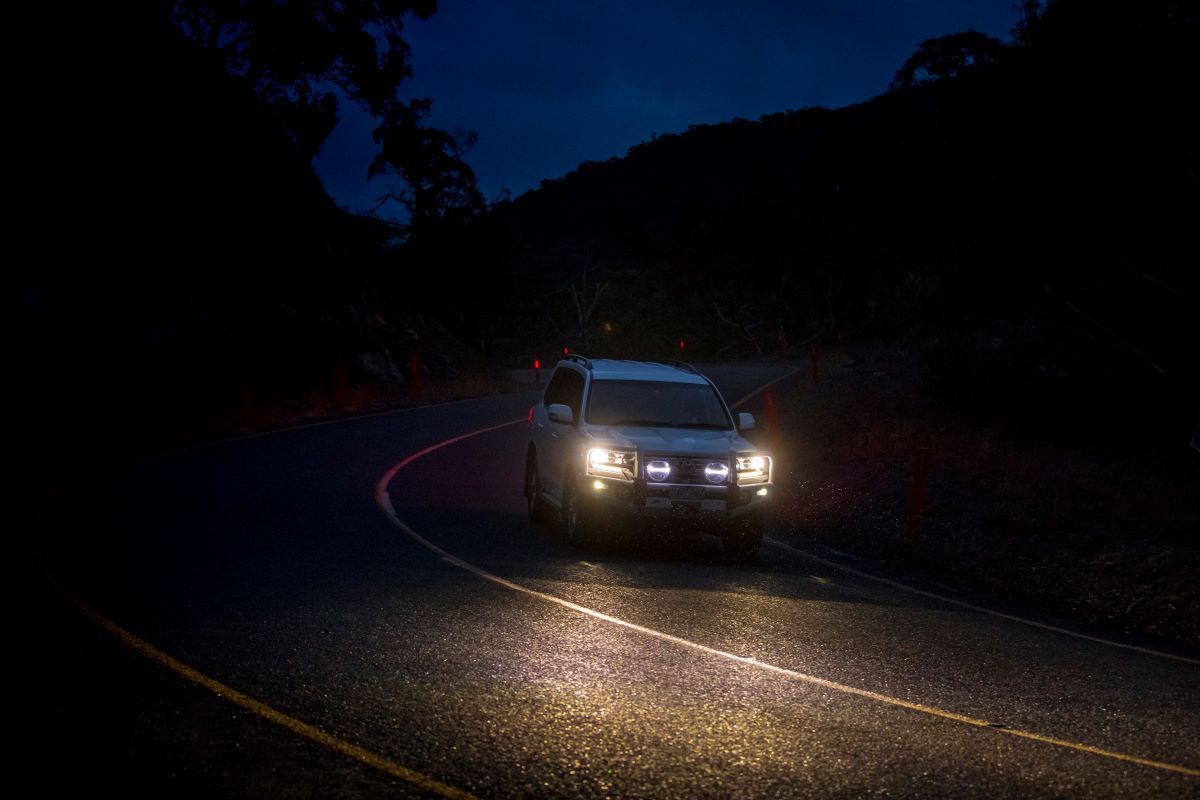 Use headlights, foglights and hazard lights appropriately
You should use your low-beam headlights whenever travelling in low light conditions or at night. High-beam headlights should be avoided as the light will reflect off the water particles in cloud vapour (fog, sleet, snow, etc.) and reduce visibility. Drive slowly to ensure your braking distance does not exceed the area illuminated by your vehicle's headlights.
If you have to pull over to the side of the road, be sure to activate your vehicle's hazard lights as stationary vehicles can be very difficult to see in adverse weather conditions.
We also recommend being judicious in your use of foglights (where fitted). Although it may seem reasonable that the more lights you have switched on the safer your are, the opposite can be true – especially for drivers following you, or travelling in the opposite direction. In Victoria and New South Wales, it is illegal to use foglights in a manner other than that prescribed by law, and patrols will enforce these rules in alpine areas.
Victorian road rule 217 and New South Wales road rule 218-1 (a) states that drivers must not use front or rear fog lights unless driving in fog or other hazardous weather conditions that cause reduced visibility. A similar rule applies in Tasmania (Road Rules 2009).
The best way to think about this is that you should only use your front or rear foglights when visibility is less than 100m, and you should turn them off as soon as visibility improves.
Handy web links:
http://classic.austlii.edu.au/au/legis/vic/consol_reg/rsrr2017208/s217.html
https://roads-waterways.transport.nsw.gov.au/roads/safety-rules/warnings-hazards/lights-horns.html
https://www.transport.tas.gov.au/__data/assets/pdf_file/0008/109547/Road_Rules_-_Front_Fog_Lights.pdf
https://www.transport.tas.gov.au/__data/assets/pdf_file/0006/257487/Additional_Lighting_on_Vehicles_-_Information_Bulletin_-_Sept_2020.pdf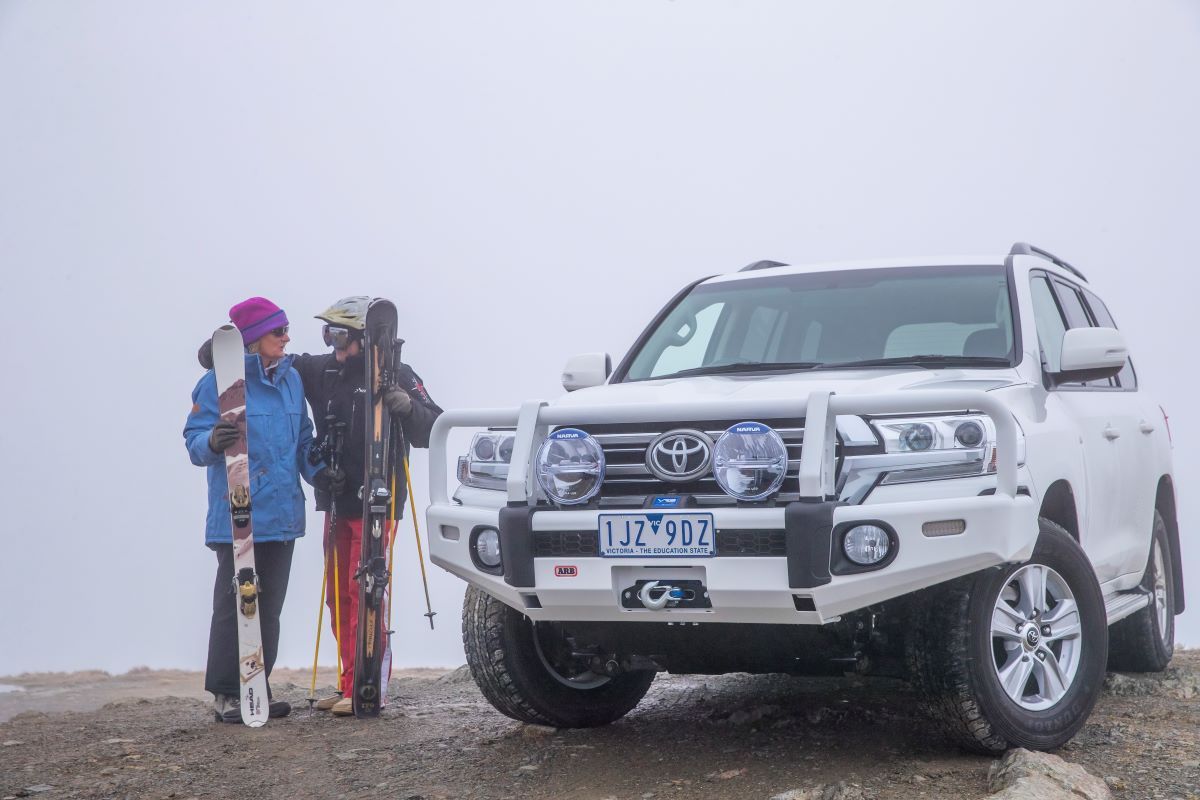 Park safely on the slopes
When parking at the snowfields, it is important to choose a safe location that will reduce the amount of maneuvering required when you leave the car park at the end of your stay. This can reduce the chance of your vehicle becoming 'stuck' or being damaged by other vehicles that may be trying to extract themselves from a difficult predicament. Where possible, always park on flat ground.
Always follow the direction of the car park attendant or snow patrol when parking at the snowfields. Leave the car in gear or Park, and do not apply the park brake unless absolutely necessary as moisture can freeze the cables and brake linings. Wherever possible, reverse into a parking bay so that you can see where you're going when it's time to drive out.
Steer your front wheels away from the slope and if parked by a bank, and park as close as possible to the bank to avoid being hit by another vehicle or snow plough. Do not use rocks or logs to chock your wheels as these may damage slow clearing equipment. Carry and use rubber or plastic wheel chocks if you feel these are necessary.
If parking for an extended period it may be necessary to cover your vehicle's radiator to help prevent freezing. Lift your wipers from the windscreen or place a plastic bag between the wipers and the glass so the rubber doesn't freeze to the glass. On older vehicles, cover door locks with masking tape to help stop the locks freezing up.
Even if chains were not required to enter the snowfields, it is advisable to fit them when parking. It is much easier than trying to fit them later for the return trip if weather conditions change or the vehicle is snowbound.
Finally, we recommend returning to your vehicle periodically to clear snow on and around the vehicle. Snow is heavy and hard to move, so it stands to reason that the more snow there is, the harder time you'll have when you attempt to leave your parking space.
Handy web link:
https://snowsafe.org.au/parking/