Engineered for performance,
versatility and durability
Part of the top-of-the-range Ultima LED family, Narva's High Powered Driving Lights have been engineered in Australia to suit our unique driving conditions.
Super strong, fully sealed and virtually unbreakable, they're impervious to shock and vibration
on unsealed roads. The built-in 'Active Thermal Management System' (ATMS) ensures the LEDs stay cooler for longer, resulting in peak output over extended periods of operation.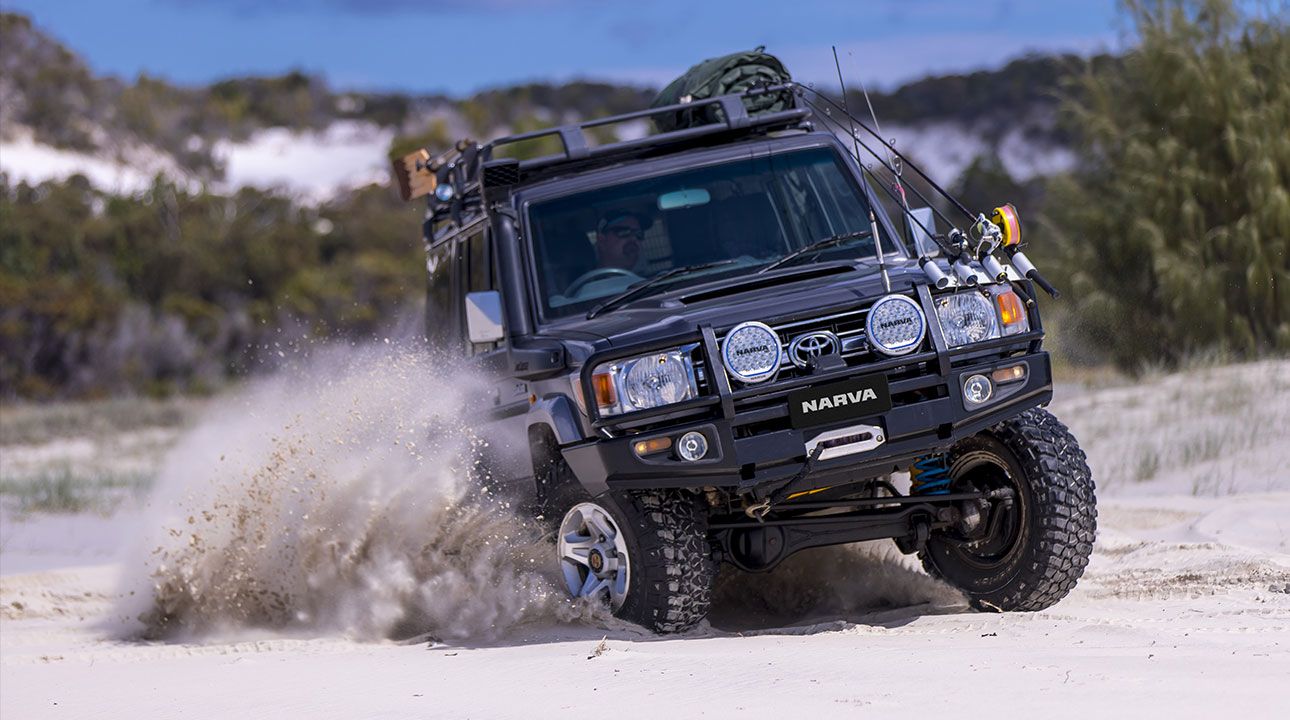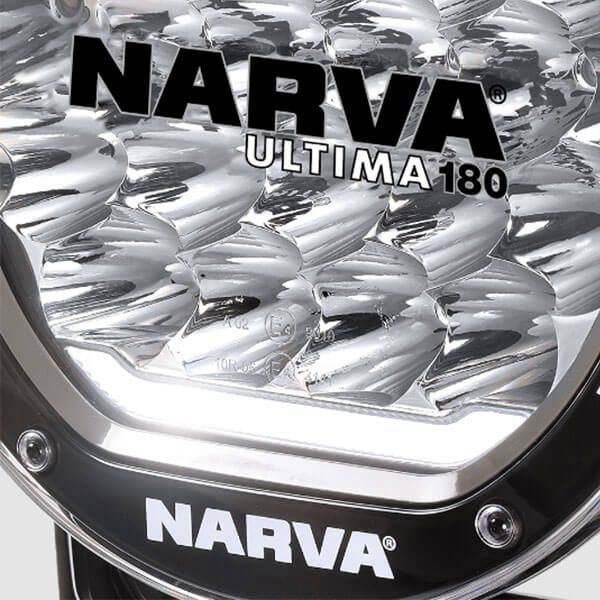 Unparalleled Performance
• The very latest 5 Watt Osram LEDs produce an extremely efficient yet powerful white light output


• Improved Colour Rendering Index (CRI) and a 5700°K colour temperature provides a more natural light colour and improved visibility


• Highly polished, super efficient aluminium metallised reflector utilising precisely scalloped parabolas for ultimate control and performance


• Signature in-build LED light pipe meets ECE requirements for front position light improving daytime driving visibility and safety
Versatility
• Tool-free vertical adjustment enables quick on-the-fly beam correction via ergonomic aluminium adjuster knob


• Multi-slot 3-bolt mounting option ensures suitability for all bull bar and nudge bar makes and models


• Superior mounting bracketry suspension system utilises polyurethane bushes to suspend the lamp, making it impervious to shock and vibration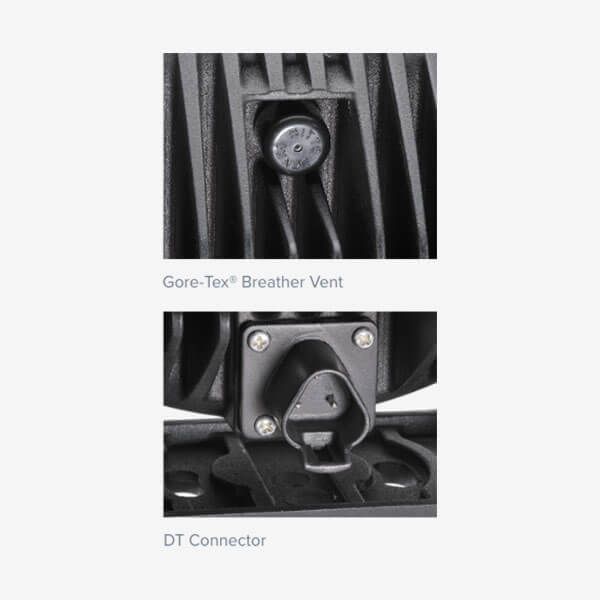 Durability
• Constructed from light-weight super strong pressure die cast aluminium, providing uncompomising strength and durability


• Built-in 'Active Thermal Management System' (ATMS) enables the Ultima MK2 driving lights to run harder for longer


• Fully sealed against water and dust (IP66 & IP67) with a genuine Gore-Tex® breather vent and integrated DT connectors


• Virtually unbreakable hard coated and UV resistant polycarbonate lens and lens protectors for stone and debris protection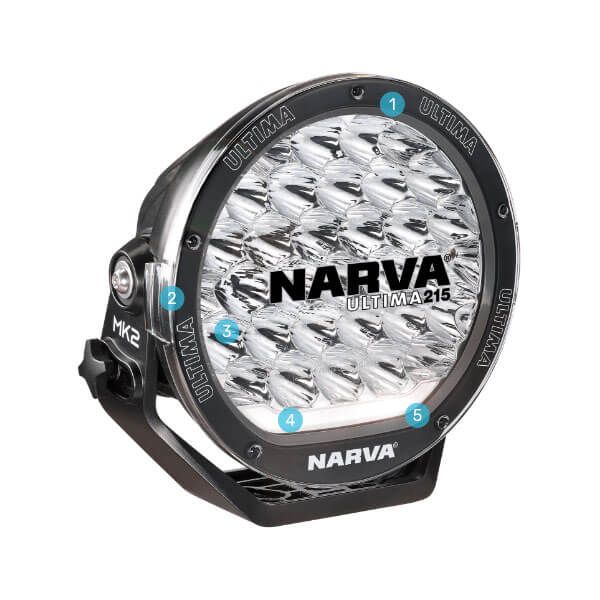 Virtually Unbreakable
1. Satin or Black Stainless Steel Bezel


2. Clear or Dark Tinted Hard Coated and UV Resistant Polycarbonate Lens and Lens Protectors


3. 5W Osram LEDs


4. LED Front Position Light Pipe


5. Interchangeable Colour Trims (slate Grey Shown)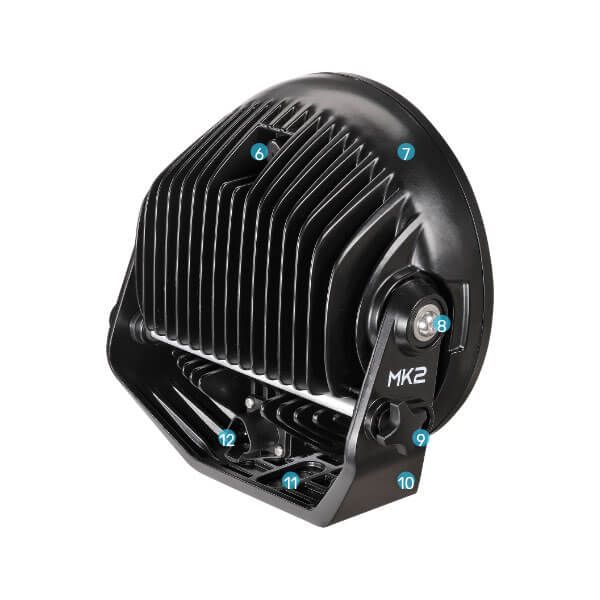 Easy Installation
6. Gore-Tex® Breather Vent


7. Pressure Die Cast Mounting Bracket


8. Polyurethane Mounting and Suspension System


9. Tool Free Vertical Adjustment


10. Pressure Die Cast Aluminium Housing


11. Three Bolt Mounting with Stainless Steel Hardware


12. Integrated DT Connector
30% BRIGHTER
With upgraded LED technology, the MK2 range of Ultima LED High Powered Driving Lights produce a mind-blowing 30% more light with a 20% longer beam than the first generation.
An improved Colour Rendering Index and 5,700°K colour temperature provides a more natural light colour and improved visibility.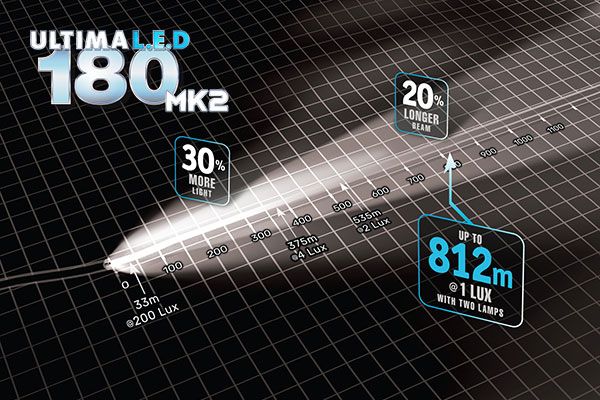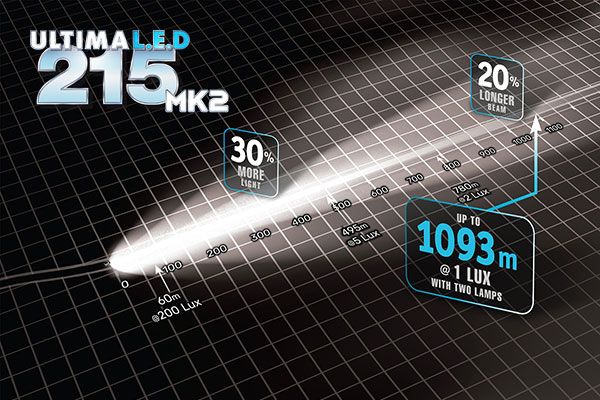 100% BOLDER
The Ultima LED MK2 range is now available in a bold new Black Edition with black bezels, black adjustment knobs, black polyurethane brushes and dark tinted 'Stealth" lens covers. They also come with three bold new colour trims including Hyper Green, Electric Blue and Slate Grey (pre-fitted). The trims can be easily interchanged without voiding your warranty.
In addition, Ultima LED MK2 Driving Lights are available in a stainless satin finish for the classic Narva Ultima look.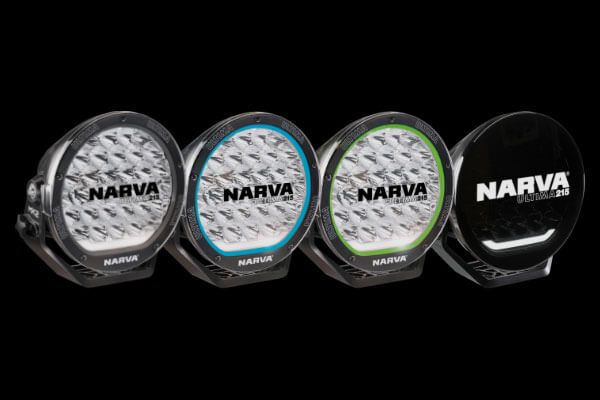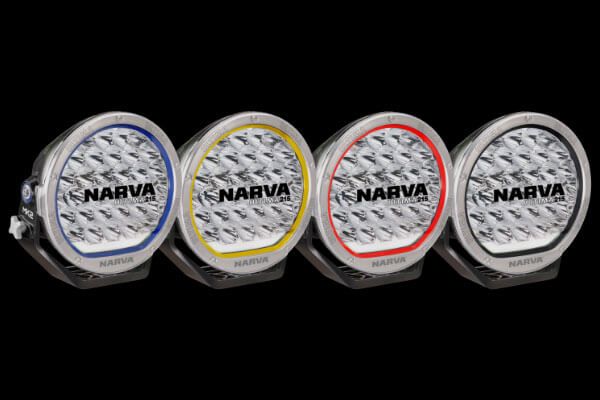 COMPREHENSIVE BLACK EDITION
MK2 TWIN KITS NOW AVAILABLE
The new Ultima LED High Powered 180 MK2 and 215 MK2 Driving Lights now come in a comprehensive kit containing two Black Edition lamps and everything you need for an easy, professional installation.
The kit includes a premium Heavy-Duty 'Plug and Plan' wiring harness that has been trailored specifically to ensure the Ultima LED MK2 lights operate at their optimum performance level.
EACH KIT INCLUDES:
2 x Black Edition 180 or 215 Hybrid Beam LED Driving Lights
1 x Premium Heavy Duty Wiring Harness
2 x Clear Hard Coated Polycarbonate Lens Protector
2 x 'Stealth' Hard Coated Polycarbonate Lens Protector
2 x SLATE GREY Interchangeable Trim Pieces (PRE-FITTED)
2 x HYPER GREEN Interchangeable Trim Pieces
2 x ELECTRIC BLUE Interchangeable Trim Pieces
2 x Stainless Steel Mounting Hardware Kits
1 x Fitting Instruction Booklet